Careers education is a crucial part of a learner's life journey. At Queen Elizabeth High School, we seek to equip and prepare our pupils for their future. Providing pupils, parents/carers and staff with relevant and current is key to ensure that all of our students can make fully informed decisions about their futures. We offer support to all of our students across all key stages so that they are prepared for adult life and the world of work.
Careers education is delivered through wider-curriculum opportunities including the Personal Development tutorial programme, planned drop-down days and other bespoke events/activities.
Queen Elizabeth High School Careers Leader: Paul Freeman-Myers (Assistant Headteacher for Personal Development). 
Email address: careers@qehs.net
Phone number: 01434 610300
Queen Elizabeth High School Board of Trustees: The school's CEIAG strategy and policy has been formally adopted by the Board of Trustees. The school's careers link trustee is Veryan Johnston.
Click here for our Careers Programme Overview 2022-23
Click here to view the Queen Elizabeth High School Careers Policy (ratified by the board of trustees: date: To be reviewed by April 2024.
The Queen Elizabeth High School Careers Programme
The images below provide an overview of the careers programme at Queen Elizabeth High School. 
What are the Gatsby Benchmarks?
A report was published in 2014 by the Gatsby Charitable Foundation identifying eight benchmarks (known as the Gatsby Benchmarks), regarded to be key components for driving forward good careers and enterprise provision in schools.  
The Department for Education's "Careers Strategy" was published three years after Professor Sir John Holman 2014 report 'Good Career Guidance'. 
 The eight Gatsby Benchmarks are:
A stable careers programme

Learning from career and labour market information

Addressing the needs of each pupil

 

Linking curriculum learning to careers

 

Encounters with employers and employees

 

Experiences of workplaces

 

Encounters with further and higher education

 

Personal guidance.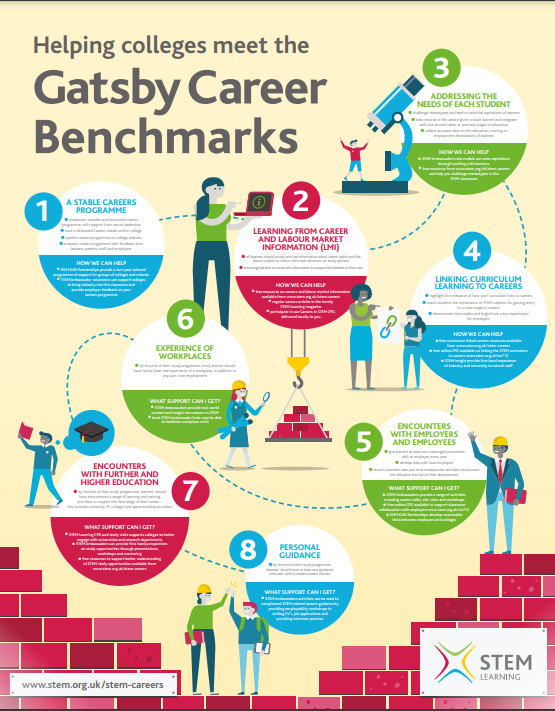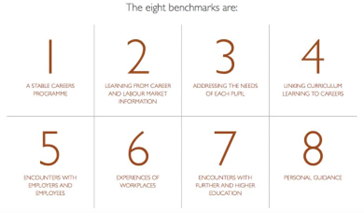 Careers Curriculum Vision
An ambitious and empowering careers provision which has success for every learner at its core, driven by the school ethos of Respect, Engage, Aspire and 'an outstanding eagerness to promote good learning'.  
Our Aims and Priorities for Careers Curriculum, Information, Advice and Guidance
Our school's strategic career plan contains 5 driving priorities: 
To ensure that pupils develop the skills and character traits required to help them engage in their future adult and working lives.

 

To help foster and sustain a culture of high aspiration.

 

To promote equitable opportunity, celebrate diversity and inclusivity, challenge cultural stereotypes and ensure pupils are afforded additional support and guidance to reach their potential.

To establish sustainable links between the school, local businesses and enterprises and further/higher education providers.

 

To assist pupils in developing skills and confidence to make well-informed decisions about future aspirations.
Queen Elizabeth High School Alumni
We would like to share the life experiences of our past students as well as highlight the different career journeys they have had and pathways they now intend to pursue. 
We understand that alumni stories and career profiles can be the catalyst for motivation and a source of inspiration. It has also been said that "variety is the spice of life." Life is more interesting when you try new things to vary your experiences.
If you have previously attended Queen Elizabeth High School and would like to share your career testimony, please contact Paul Freeman-Myers at admin@hexhammiddle.org.uk or 01434 610300. 
Apprenticeships
National Apprenticeship Week 2023 runs from the 6-12th February
There is a lot of information on the internet to support young people, should they be exploring the possibility of an apprenticeship.  Whether a student is in the Sixth Form or Year 11, and considering their next steps, or even in year 9 or 10 and starting to consider alternative pathways in training and education, why not check out some of the following links.
Parent/Carer Engagement – ASK Apprenticeship Talk
If you want to get a better insight into apprenticeships, ASK created a useful PowerPoint presentation, which you can watch by clicking here. 
The presentation will equip you with current knowledge to support your child to make an important decision about whether an apprenticeship is for them. If you would like your child to attend an additional careers interview to help start this process, please get in touch with the school, where we can make an appointment with our careers guidance manager.
We regularly update a range of different opportunities relating to apprenticeships in our weekly bulletin for Year 11,12 and 13 students. 
If a student would like to discuss apprenticeship options, they can book in a session with our Careers Guidance Manager for a more informed discussion. Students can also visit our Learning Resource Centre to use the IT facilities.  We encourage students to benefit from the online resources available to them and would like to support each student – addressing their individual needs is a priority for us.  We would like to ensure that everyone makes the best decisions they can based on the most recent information available.
Northumberland Skills
Northumberland Skills have recently been into school to talk about apprenticeships with our year 11 students, on their Taster Day in January.  There are a number of opportunities available to students, if they check out their website: https://www.northumberlandskills.co.uk/
Northumberland County Council Apprenticeships
Over the last five years the council has employed more than 1000 apprentices, and they are committed to investing in more of our county's amazing young people. They are pleased to be able to offer a further 60 apprenticeships this February. 
There are a variety of apprenticeship opportunities across many different departments from: legal, horticulture or libraries team, or you could forge a career as an early years educator, IT support, business admin, or get hands-on experience in a trade like joinery or electricals. 
On Wednesday 9 February they will be holding a virtual Apprenticeships Open Day. It is open to anyone curious about apprenticeships, including parents and carers.  
To register for the event and find out more information, you can go to https://nccapprenticeships.vfairs.com/en/#home  
There will be three drop-in sessions throughout the day. The sessions will run at 10am-12pm, 1pm-3pm, 5pm-7pm, and you only need to attend one of them. Note: You cannot miss lessons to attend either of the first two sessions. Attendees will be able to watch webinars, browse the different types of apprenticeships available, and ask questions of current apprentices and managers. 
There will also be an opportunity for students and teachers to join the team at a globalbridge virtual event on Thursday 10 February between 10am and 11am 
For more information about apprenticeships at the council, go to www.northumberland.gov.uk/apprenticeships or to ask questions, email: apprenticeshipenquiries@northumberland.gov.uk or text 'APPLY' to: 07929 746545   
Apprenticeships offer an alternative option for a young person to further their education, so please do take the opportunity to attend one of the events if you can, to find out more.  ASK
Careers Advice
We have an independent careers advisor, Sarah Sunderland, who can provide support on all aspects of your future in employment or education including further and higher education, training and apprenticeships.
Details of how to arrange an appointment with Sarah will be available shortly.
Careers Library
The Learning Resource Centre also contains information about careers, occupations, opportunities for employment, training, further education and higher education. (Including college and university prospectuses)
The Careers section also holds information on job searching: CV, applications and interview help.
The notice board displays current apprenticeships, jobs (including part time) and voluntary opportunities.
There is also access to computer aided guidance packages such as Kudos and Careerscape.
NCC advice for students who are in employment
Below is Northumberland County Council's advice on students who are in employment:
Did you know that?
All children from the age of 13 years and who are working must be registered with the Local Authority and be issued with a work permit.
It is an offence for an employer to employ children without registering with the local authority first.
The numbers of hours students can work whilst attending school are restricted. Children must not work before 7am and after 7pm.
Any children working without a permit is not covered by their employer's liability insurance.
More information and application forms can be obtained from:
Education Welfare
Virtual Schools
Education and Wellbeing Service
Wellbeing and Community Health Service
Brunel Building, 64 Regent Street
Blyth
Northumberland
NE24 1LT
Tel: 01670 622800
STEM (Science, Technology, Engineering and Maths)
This article (external URL) is all about stereotypes in Engineering. 
National Careers Week 2022
National Careers Week has arrived and there are a number of opportunities for learners to gain knowledge and experience of the world of work.   
Each year group will have an assembly:
In year 9, students are looking at the Careers and Skillsometers found on our school website and reflecting on a video titled 'Hope'.  We are keen for students to consider how wellbeing is important when considering possibilities in life. The assembly can be viewed here: National Careers Week 2022 – Year 9 (PowerPoint)
In year 10 and 11 students are starting to look at the future of work and more specifically, Labour Market Information (LMI).  We would like to encourage our year 10 students to access the virtual careers fair.  Following up from the assembly we are encouraging students to complete the skills crossword.  You can view the assembly here: The Future of Work (PowerPoint)
In our VI form we will be actively encouraging our students to access the National Careers Week Virtual Careers Fair.  In VI Form, students are expected to search and select some appropriate work-related learning.  In the summer term we will support year 12 students to find a placement.  Some students may prefer to engage with virtual experiences.
National Careers Week Virtual Careers Fair
Welcome – 2022 NCW Virtual Careers Fair (ncw2022.co.uk)
Skills Builder Homezone
At Queen Elizabeth High School we would like to bring to parents and carers' attention, an excellent free resource to develop their child's essential skills. These can be classified as 8 universal and transferable skills that potential future employers find attractive:
speaking
listening
aiming high
staying positive
problem solving
creative
teamwork
leadership
Skills Builder Homezone https://www.skillsbuilder.org/homezone provides a variety of skills challenges that students can explore independently.  Activities are updated regularly and they are supported with a range of reflection questions from the 'getting started' level through to mastery.  We feel that this framework of essential skills will help to prepare our students for the wider world.  
Other useful resources
The following resources can also be used to help learners broaden their understanding of work in the future and learning more about themselves and their work-related and learning interests:
ncw-futureofwork-2022.pdf
Year 9: 
Year 10:
Year 11:
VI Form:
https://icould.com/explore/categories/career-paths/going-to-university/university