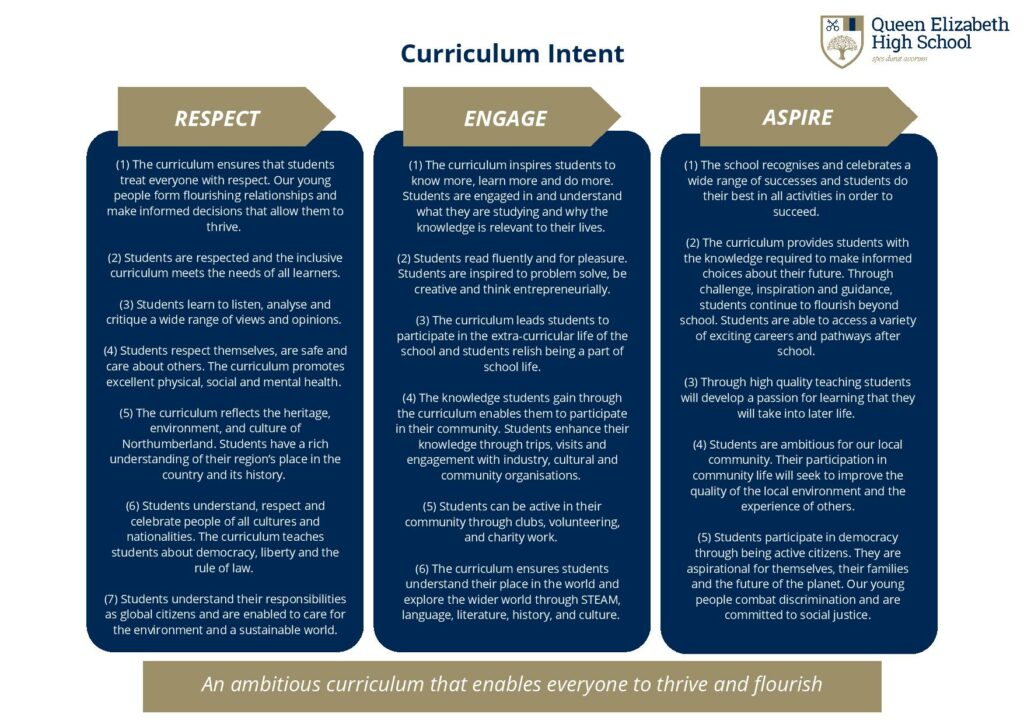 At Queen Elizabeth High School we offer a curriculum which reflects our commitment to enabling all of our students to develop their knowledge and understanding, skills and mindset, so that they can take their next steps with confidence. 
During the current academic year, the school endeavours to provide the same broad and balanced curriculum as in pre-pandemic years, but with some necessary adaptations to encompass the national restrictions imposed throughout the course of the year.  Details of the school's remote learning provision may be found here.
Key Stage 3 Curriculum (Year 9)
Students in Year 9 have a 50 period timetable based on a 2-week structure and a morning form period each day.  In all subjects except mathematics, students are taught in mixed ability groupings.  The curriculum is planned in conjunction with the high school's three main feeder middle schools to afford students the best opportunities to build on prior learning. 
All students must take the following combination of subjects at Key Stage 3:
English
Mathematics
Science (Biology, Chemistry, Physics)
Geography
History
French/Spanish
PE
Religious Studies
PSHE
IT/Computing
Technology
Art
Music
Latin is available as an enrichment activity for students to opt in to. 
The subjects taught, together with allocated teaching hours per fortnight in Year 9, are as follows:
| Subject | Teaching Hours Per Fortnight |
| --- | --- |
| English | 8 |
| Maths | 7 |
| Science | 6 |
| Geography | 3 |
| History | 3 |
| French/Spanish | 6 |
| PE | 4 |
| Religious Studies/PSHE/Citzenship | 3 |
| IT/Computing | 2 |
| Technology | 2 |
| Art | 2 |
| Music | 2 |
Further detailed information relating to subjects studied in Year 9 can be found here.
Key Stage 4 (Years 10 and 11)
Students in Years 10 and 11 have a 50 period timetable based on a 2-week structure and a morning form period each day.  All students must take the following combination of subjects at Key Stage 4:
English Language and English Literature
Mathematics
Combined Science 
Modern Foreign Language
Humanities (History/Geography)
Two additional options subjects (students can opt for additional science)
In addition, all students must take the following subjects that do not lead to the award of a qualification:
Physical Education (Core)
Personal, Social, Health and Economic Education (PSHE)
Further detailed information relating to the subjects studied in Year 10 can be found here and in Year 11 here.
Form Time in Years 9 to 11
Students in Key Stages 3 and 4 benefit from a 20 minute form period each day.  Tutors follow a programme of activities led by Mr A Hedley, Associate Assistant Head.  They also have a weekly assembly led by a member of the senior leadership team or the pastoral team. The theme of the assembly and tutorial activities are linked to British Values, Citizenship, the PSHE programme and aspects of SMSC. 
Key Stage 5 (Years 12 and 13)
All students will enrol on a two-year programme for both years, as appropriate to their individual circumstances and GCSE profile. This programme of study will be composed of:
Substantial qualifications that stretch students and prepare them for education at the next level or for employment, comprising of A-levels, BTEC Level 3  and OCR Level 3.
an accredited enhancement course from:

Extended Project Qualification (EPQ)
Further Mathematics
Higher Sports Leader Award
LAMDA
Grade 8 Music

English Language and maths resit, where students have not yet achieved a GCSE grade 4.
work experience to give students the opportunity to develop their career choices and to apply their skills in real working conditions.
other non-qualification activity to develop students' character, broader skills, attitudes and confidence, and support progression including Personal, Social, Health, Economic and Citizenship education, through the Sixth Form assembly programme and through periodic drop-down lessons and days.
Full details of the subjects available to study can be found here.
Adaptations to the curriculum and the learning environment for students
Further information on how the school ensures that the curriculum is accessible for all students may be found both here and in the QEHS Accessibility Action Plan 2023-24.
Careers
In all year groups, students benefit from an age-appropriate, careers programme to support them in being successful, prosperous and happy in their future lives.  Details of the opportunities available can be found here.