The QEHS school uniform comprises of:
School sweatshirt with QEHS school logo
White polo shirt
Plain black formal school trousers/skirt
Plain, black low-heeled polishable shoes or ankle boots
Our School Uniform Policy and Further Guidance (PDF) provides full information about our school uniform requirements, with additional details for clarification.
Purchasing School Uniform

Compulsory items must be purchased from our designated supplier, Michael Sehgal & Sons.
The compulsory items are:
The school sweatshirt
Sports polo shirt or pro rugby shirt
One of the following: PE/rugby shorts, tracksuit bottoms or leggings.
Purchases from Michael Sehgal & Sons can be made online (external URL) or by telephone (0191 230 2320). Telephone assistance is available 7 days a week for those who prefer to speak to someone whilst ordering.
Other non-compulsory school logo items (e.g. additional items of PE kit) can also be purchased from Michael Sehgal & Sons.
There is no designated supplier for skirts and trousers but we strongly recommend using the selected lines from Michael Sehgal as these have been selected by the school to meet our Uniform Policy.
Recommended PE Items
One long sleeved item from ¼ zip mid layer or hoody (outdoor, winter/spring lessons)
One performance navy socks or rugby socks to be worn for outdoor contact games
Blue base layer (thermal skin) (outdoor, winter/spring lessons) these can be purchased from sports retailers.
Please note – when representing the school rugby teams, students are required to wear the pro rugby shirt, pro rugby shorts and pro rugby socks.
Recommended Footwear
Footwear needs to be fit for purpose and be appropriate for the lesson location and surface. Students must change their footwear for PE. Over the coming year we hope to start making use of some of our new facilities. We will have use of our new 3G all-weather pitch, from January at the latest and possibly from November. Students must have recommended footwear when using this pitch for PE activities; at lunch time, to play football; and for fixtures. We will issue further guidance on when these will be needed in the new academic year, but appreciate that parents will want to know now that this will be a requirement. Please note: 'astro' trainers and 'bladed' studs will not be acceptable on the 3G pitch.
The requirement from September:
One pair of non-marking training shoes (not leisure shoes) for use in sports hall, gym, tennis/basketball area and new MUGA. Please note no plimsolls or school shoes to be worn for PE lessons.
The additional requirement later in the year:
One pair of football boots. Boots must have either a moulded stud or a screw in stud (note screw in studs must be kite marked for safety reasons) for use on 3G pitch (date required TBC).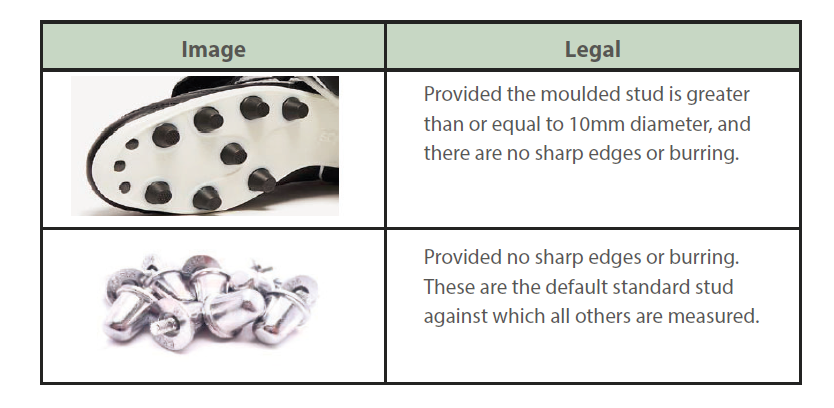 PE Kit Personal Protective Equipment
The PE department strongly advises that students should wear appropriate personal protective equipment (PPE) where necessary e.g. shin pads and mouth guards for contact sports such as football, rugby and hockey.
These can be purchased from all good sports retailers.