The QEHS school uniform comprises:
V-neck jumper with QEHS school logo
White shirt – long or short-sleeved
QEHS tie
Grey formal school trousers/pleated skirt
Plain black leather/leather effect, polished shoes or low-heeled boots
Our School Uniform Policy and Further Guidance (PDF) provides full information about our school uniform requirements, with additional details for clarification.
Purchasing School Uniform

Compulsory items must be purchased from our designated supplier, Michael Sehgal & Sons.
The compulsory items for the school and PE uniform are:
The school jumper
The school tie
PE: Sports polo shirt 
PE: One of the following: PE/rugby shorts, stadium track pants or leggings.
Purchases from Michael Sehgal & Sons can be made online (external URL) or by telephone (0191 230 2320). Telephone assistance is available 7 days a week for those who prefer to speak to someone whilst ordering.
Other non-compulsory school logo items (e.g. additional items of PE kit) can also be purchased from Michael Sehgal & Sons.
There is no designated supplier for skirts and trousers but we strongly recommend using the selected lines from Michael Sehgal as these have been selected by the school to meet our Uniform Policy.
PE Uniform
The compulsory items of our PE uniform are the polo shirt and shorts/track pants/leggings as above. Full details of our PE uniform can be found here (PDF).
Please note – when representing the school rugby teams, students are required to wear the pro rugby shirt, pro rugby shorts and pro rugby socks.
Outdoor PE Items
Please be aware that owing to our new state of the art facilities, students will be participating in outdoor PE throughout the year, so our recommendations are that students purchase one of the following:
QEHS Mid layer or rain jacket OR
Plain black, blue or white base layer (thermal skin). These can be purchased from sports retailers.
Please note – school jumpers are not permitted to be used in PE lessons due to hygiene reasons.
Footwear For PE
Footwear needs to be fit for purpose and be appropriate for the lesson location and surface, Students MUST change their footwear for PE.
3g Astroturf
Students must ensure they have moulded boots or football/rugby screw in studded boots to participate in PE on the 3g Astroturf.
Indoor/hard surface guidance – Sports hall, MUGA and Sand-based Astroturf
Students must use either Astroturf trainers or running shoes to participate on these surfaces. School shoes are NOT permitted on theses surfaces.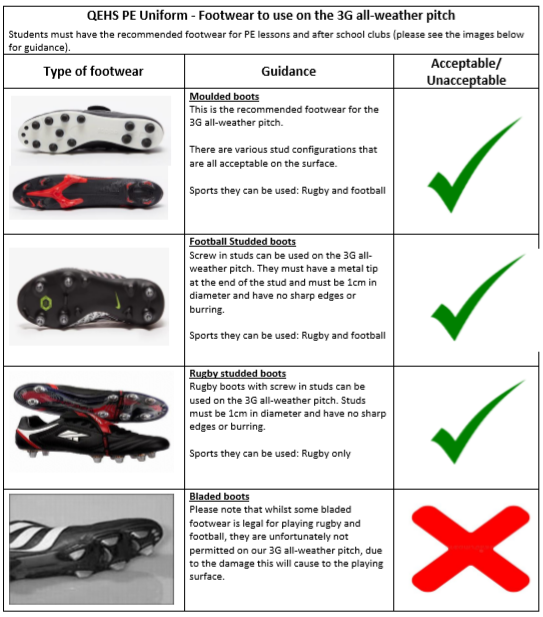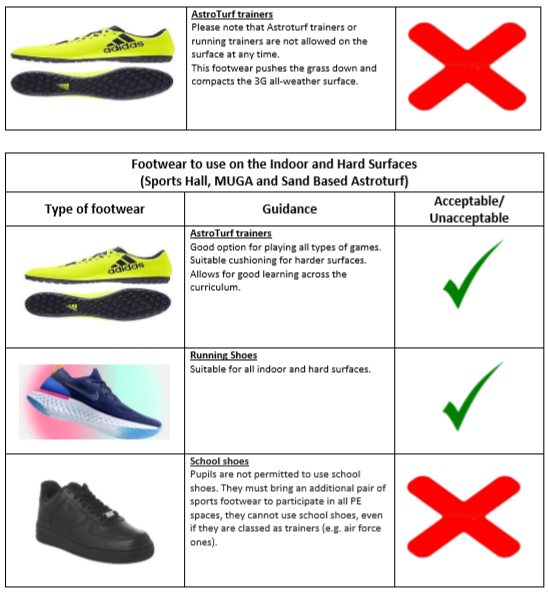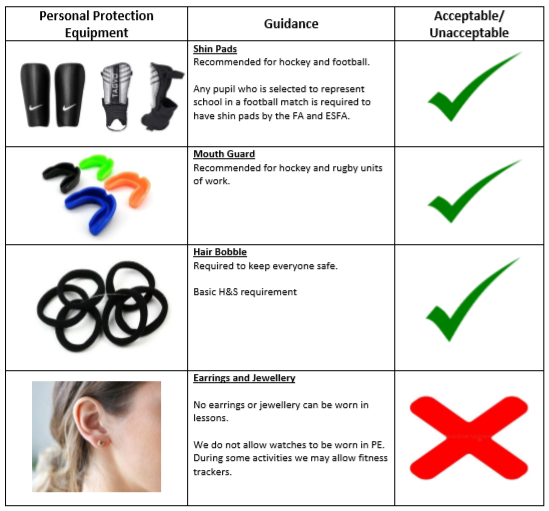 Safety in PE
In line with Health and Safety guidelines for sport and physical activity, prior to PE lesson students must do the following:
Remove all earrings and jewellery.
Hair must be tied back.
Nails should be kept short / no false nails (In line with the school policy). This is especially relevant in units of work such as netball and basketball.
PE Kit Personal Protective Equipment
The PE Department strongly recommends the appropriate use of safety equipment when taking part in activities at school. This advice is not mandatory but is strongly recommended.
The following items are needed throughout the year for our invasion games units of work, extra-curricular clubs and competitive fixtures.
Age-appropriate shin pads for hockey and football.