To quickly jump to a section, click on the links below.
Children's Mental Health Week Assembly; Channel Your Inner Toddler For More Happiness.
Please watch Mr Zabrocki's assembly on Children's Mental Health Week below.
February Health and Well-being Calendar
Please see our health and well-being calendar for February – there is a different challenge each day for students to try.
Active In Mind Student Wellbeing Plan
Hi everyone,
Thank you if you managed to find the time to complete the questionnaire.
It is important to remember that COVID and lockdown are likely to have had an impact on everybody's well-being. This is to be expected, especially as you may be facing additional uncertainty about examinations and assessments.
There are also evidence-based steps everyone can take to support their well-being for example:
Connect with others – talk to sympathetic people about how you are feeling now;
Be active – exercise changes our emotional states;
Find something that calms you or makes you feel happy and do it everyday
Do something that helps someone else – this could include volunteering
Keep learning – remembering that we can develop and grow changes our outlook on life
There are also a wide range of  self-care strategies on the Anna Freud website: https://www.annafreud.org/on-my-mind/self-care/ You may remember this site if you attended the face to face sessions at the end of the summer term. It is important that you have a regular self-care routine. Find strategies that work for you (there are over 90 on the Anna Freud website).
I have also attached a well-being plan that might help you to focus your self-care.
If you feel like you need additional support please let someone know: a trusted friend, parent or school mentor. Remember, it is ok not to be ok!
If you need to contact someone outside of school, there are a number of ways to do that here: https://www.childline.org.uk/toolbox/calm-zone/ as well as further advice regarding well-being.
Best wishes,
Mr Hedley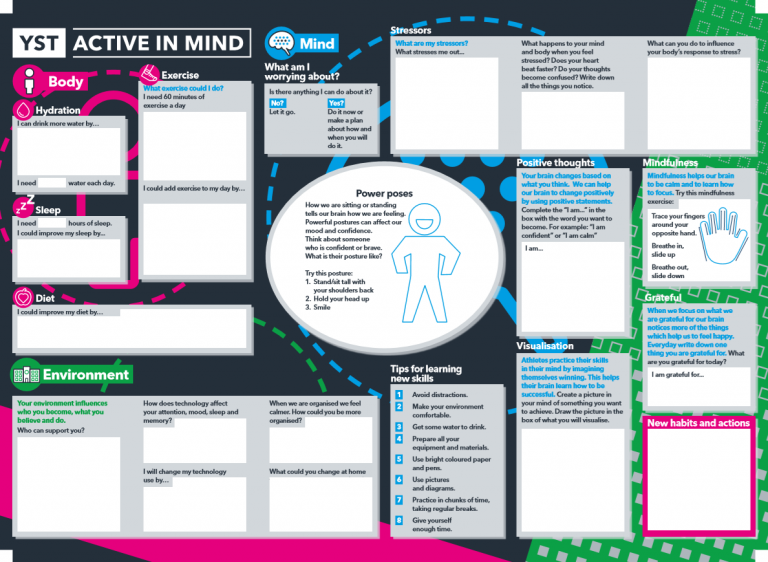 For Students: Useful Links
The below websites have dedicated sections to mental health and well-being support for young people. 
Northumbria Healthcare NHS Foundation Trust runs a 'ChatHealth Messaging Service', where young people aged 11-19 can text a school nurse for confidential advice and support on a wide range of issues.
Young people can send a text to: 07507 332 258 (9.30am – 4.30pm Monday – Friday excluding bank holidays)
The nurses can advise on a wide range of topics, such as:
• Emotional health
• Relationships
• Self-harm
• Bullying
• Alcohol
• Healthy eating
• Drugs
• Smoking
Please note: they aim to reply within one working day and you should get an immediate bounce-back to confirm they received your text. Texts will not be seen outside of normal working hours. If you need help before you hear back, contact NHS 111 or dial 999 if it is an emergency
For Parents/Carers: Resources Collated by the NCC Psychological & Educational Teams
The Psychological and Educational teams at Northumberland County Council have collated extensive resources to assist parents/carers in supporting young people during this time.
Supporting children with additional needs
ASD toolkit for school closures (PDF)
What is the Coronavirus? (PDF)
Pandemics and the Coronavirus (PDF)
Easy-read information sheet (PDF)
Staying safe from germs (PDF)
Supporting Healthy Relationships in the Home
Isolation and the current climate we live in can be stressful for all, putting pressure on our relationships with loved ones. Northumberland's Wellbeing and Community Health Services Group have asked us to share these links to resources that may be useful in supporting healthy relationships in the home.
The last several weeks have been really difficult for most people as we have learned to adapt to a new way of life.  This time can place significant pressure on relationships with our partners, especially if the relationship was in distress to begin with.  Below are some resources that are free to access and might help you and your partner to navigate the issues you are facing:
And online courses for parents:
This is aimed at expectant or new parents but this is just as helpful for those of use with older children especially during Covid-19. We know that having a baby is one of the biggest life changes we can go through. We will be tired and stressed, and we may argue more.
The videos help us learn to argue better so that we can sort things out and move on together. Why stress should be a shared burden. It can also be accessed through baby buddy app see 'You and your partner'. 
Free online parenting course from UK Charity Family Links and hosted by Netmums. This is an eight-session email course that guides you through different parenting topics and situations, helping you become a more confident parent. Many of the tips and skills can be applied to all relationships.