With restrictions still in place, there are fewer special holiday activities than normal, but young people and their families can access the following over the summer:
Some places further afield:
Hexham Youth Initiative have a range of activities that young people and families can get involved with over the summer. See the poster below, as well as: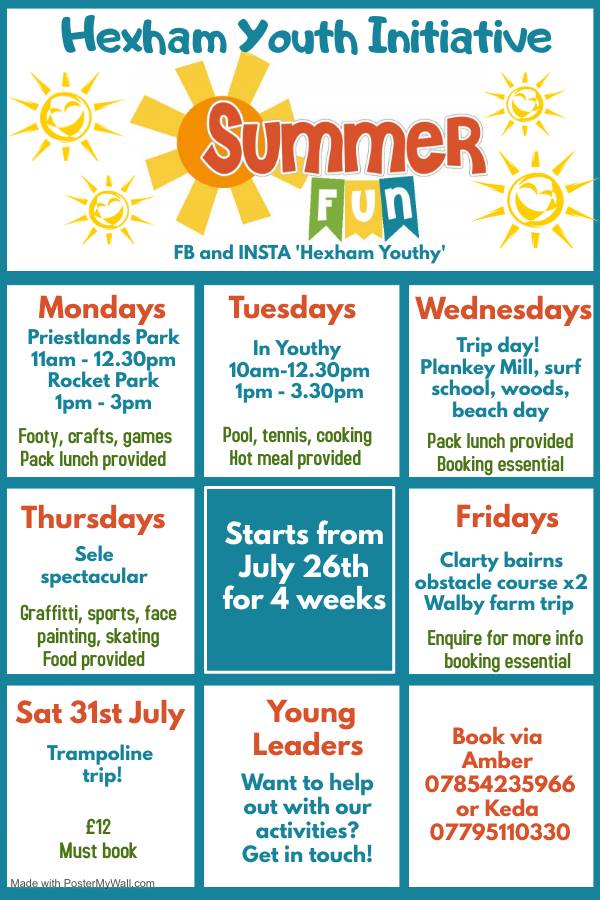 Rediscover Summer – new programme from DCMS
The Department of Culture, Media and Sports (DCMS) has launched a #RediscoverSummer campaign. The campaign brings together a range of activities for children, young people and families. DCMS has published guidance (external URL) showcasing what's on offer.
Holiday Activities and Food Programmes (HAF)
Pupils of all ages will be able to take part in a range of enriching activities and healthy meals, funded by the National Lottery across the summer break, including sport, music, dance, drama, art, cooking, and gardening. The programme of events will give pupils the opportunity to learn new skills and the chance to socialise with others and make new friends.
All enquiries should be made either by phone to the Northumberland Communities Together Response Hub on 01670 620015 9am-6pm, 7 days a week or email: NCT@northumberland.gov.uk.